Member's Advertisements
Many of our members have items to sell, or just give away. Some have cars, some have parts, some publish valuable lists of sources of items for Packards, some make art items with Packard themes. Members of the 5 clubs which sponsor the Texas Packard Meet are welcome to submit ads for placement here. There is no charge. All we ask is that you have us remove an ad for items which have sold. Just email the web master (Bill Clark clarkwc@aol.com) with the contents of your ad. Include all of the images you wish along with the text you wish included. Bill will do the rest. Commercial advertisements will also be considered. Companies who act as sponsors of the meet or who give us items of value for the "Goody Bags" given out at registration will be offered free publicy on our web site. Again, just contact our web master for help.
"The Stagecoach" is a newsletter mailed out twice a year by Jim Hill (one before the meet, one after). He includes lots of information about the meet, lots of information about the hobby and free ads. Contact Jim at jnrhill@att.com or send him mail at 1419 College Dr, Emporia, KS, 66801. He will mail you the newsletters for free and even place an ad for you free, space permitting. He also compiles and sells the most comprehensive Source List for things Packard in the world. He charges a nominal amount for it. You can contact him via email or snail mail to buy a copy. Or, he should have some for sale at the meet.
Our web master loves to make things related to classic cars. He has lots of expensive toys to work with wood, steel, aluminum, cloth, glass, silver, gold, leather and, perhaps, a few other materials. He also makes reproductions of Packard cowl plates/VIN plates/ID Plates from 1926-1953. He also draws Packards and uses the drawings for engravings and prints. He can also photograph your car and laser engrave its image on aluminum, brass, wood or ceramic tiles. See some of his work on ebay (user name clarkwc525, or search for Packard cowl plates, find one of his, go to it and click on other items for sale). Shoot him an email or call (clarkwc@aol.com, 210-347-5295). One of Bill's drawings followed by one of his Data Plates/VIN Plates: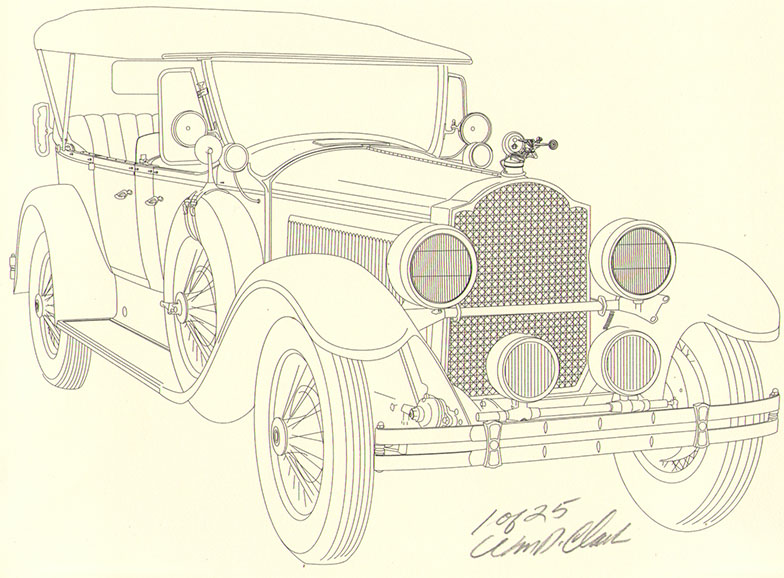 One of Bill's Packard Data Plates/VIN Plates (March 1926 to early 1932). Also available in Nickel Plated Brass like some originals.
I make all plates from 1926-1954. The 1926 through 1937 plates are 4.5 by 3.25 inches and made of solid brass. They are $22. The 1938-1951 plates are
4.5 by 4.5 inches and made of alumium. They are $12. The 1952-5? plates (I stop where the embossed plates strart) are smaller and made of aluminum-$12.
Engraving using original Packard style numbers (on the vehicle number only; the other letters and numbers were by the dealers and varied-I use a different
font for those areas) $15 for the entire plate.
A vector line drawing of your car is $30 (takes up to 10 hours to compete). High quality prints of the drawing are $5 each. Engravings of the drawing are $15.
clarkwc@aol.com. Bill at 210-347-5295
All members of regional clubs are invited to place ads here. Just contact the web master--Bill Clark, clarkwc@aol.com, 210-347-5295